Cricket Cares: Spreading Smiles for Miles
In August, Cricket Wireless showed that we're not only in the community, we're an integral part of it. From donating school supplies to providing free back-to-school haircuts for students, we are committed to showing up and giving back to support local communities across the country.
For example, in Pueblo, CO, we provided 300 kids with the Boys and Girls Clubs of Pueblo County with $10,000 worth of school supplies including binders, markers, paper, crayons and other essentials.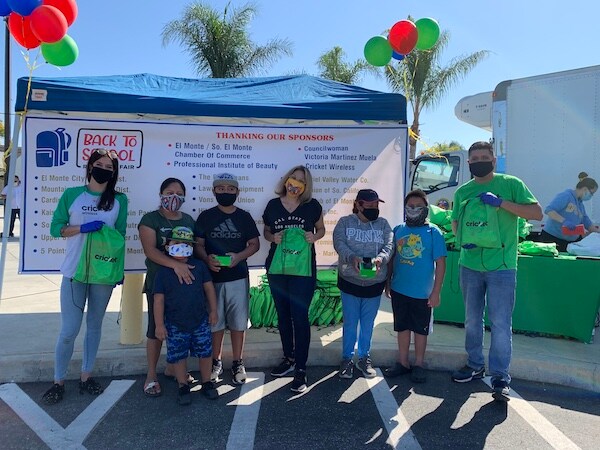 Cricket, along with Authorized Retailer TKS Wireless, took part in the City of El Monte's (CA) Back to School drive, donating earbuds, bags and pencil holders as well as helping to pack and distribute 2,000 bags.





In Columbus, OH, we teamed with the Down Syndrome Association of Central Ohio (DSACO) to sponsor two weeks-worth of free activity kits for parents and kids. Each kit was filled with five days of activities (instructions and materials) along with a sample schedule to follow. The kits were intended to help provide structure for the kids throughout the week while helping their working parents fill the gap in place of cancelled summer camps and therapies due to COVID-19.

And in Lexington, KY, we teamed with Rashida's House of Style and Cultural Cuts to bring smiles by providing students in the local area with free haircuts and discounted hairstyles in preparation for the new school season.
These are just a few of the activities Cricket spearheaded in August that demonstrates how the brand cares and gives back to the communities we serve. Stay tuned for next month's update.